24/7 Customer Service Helpline 00971552577637
Movers and Packers in Dubai – Home Shifting Services: Moving from one place to another is a tedious and stressful activity. You are not just moving your things, but also many emotions and memories along with them. And you want to do this safely, without damaging your valuable things and any unnecessary delays. For this, you will need the help of Unique Home Movers, UAE's best-rated home moving service with more than 98% happy customers. Our relocation experts offer end-to-end care for your goods throughout the journey and beyond while you enjoy an effortless moving experience. These skilled professionals can dismantle and rearrange your décor, fix necessary circuits, set up devices, and do paint jobs. You don't need to do anything! Movers and Packers in Dubai – Home Shifting Services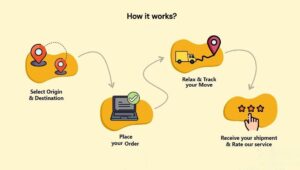 Unique Home Movers, as expert movers and packers, make the whole process of relocating a house considerably more efficient and easy. On the fly, we handle every scenario in a planned and correct way. Regardless of your moving needs, we consider everything, develop, and execute strategies to provide complete coverage.
Impeccable Workmanship
We understand that a one-size-fits-all strategy does not always meet the needs of our customers. As a result, we tailor our packing, shipping, and storage services to provide the highest level of security for each transfer. This is especially useful when transporting expensive or delicate objects to a new place.
On-time every time
Once a booking is made, our experts begin planning the relocation ahead of time. This manner, they not only have everything they need to be to the loading area on time, but they also do the work in a short amount of time. Our clients are relieved of the stress of relocating by saving time.
First and foremost, the safety of the goods
We use a standard goods protection strategy to guarantee the safety of the items while in transit and unloading. Our teams of skilled relocation professionals have received extensive training in conducting transfers securely and with particular attention to delicate objects. Movers and Packers in Dubai – Home Shifting Services. 24/7 Customer Service Helpline 00971552577637